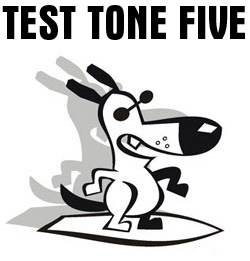 Twangin' Surfin' Progin' Fuzz 'n' Farfisa from the freezing fields of the Far North.
The Test Tone Five are possibly the North of Scotland's finest guitar instrumental combo.
They appear on the Cordelia Records compilation CD, Lemme Take You To The Beach -
an album of surf versions of Frank Zappa songs. They are currently (very gradually) working
towards the completion of their debut album, FORNICATING FEMALE FREAKS: Actually Hear
Them Enjoying The Forbidden, and Frolicking In Orgiastic Spasms of Sensuous Delight. This
will be released by Orgone Records towards the beginning of 2008.
In the mean time, here are a couple of rough mixes you can listen to and/or download.
[To listen, click on the play button; to download, right-click (PC) or ctrl-click (Mac) on the song titles.]
Test Tone Five logo © Jonathan Lemon.