..Yung & Moore Versus The Whole Goddam Stinkin' World
..Orgone Records, Orgone1, 2006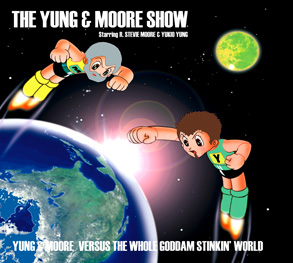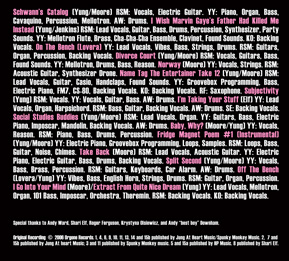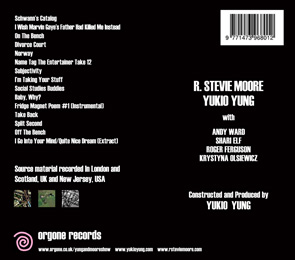 This Page
Like all Orgone and Onoma releases, Yung & Moore Versus The Whole Goddam Stinkin' World has its own web page - this one, in fact. Think of it, if you like, as an extended jacket - a place where you might find all sorts of additional information, interviews/discussions between the artists, photographs, weblinks, music you can play or download.

Buying the Album
All Orgone and Onoma albums are distributed by Shellshock, which means that any decent record shop anywhere in the world will be able to get hold of a copy for you. You can also buy it online - we have a shop where you can buy it using PayPal or any well known credit or debit card. So why not take a look in the Orgone/Onoma Shop. You can also buy it online from Amazon and Play.com.

Track Listing

| | | |
| --- | --- | --- |
| 1 | Schwann's Catalog | 4:10 |
| 2 | I Wish Marvin Gaye's Father Had Killed Me Instead | 5:34 |
| 3 | On the Bench | 2:36 |
| 4 | Divorce Court | 6:26 |
| 5 | Norway | 2:50 |
| 6 | Name Tag the Entertainer Take 12 | 5:03 |
| 7 | Subjectivity | 2:37 |
| 8 | I'm Taking Your Stuff | 3:48 |
| 9 | Social Studies Buddies | 5:56 |
| 10 | Baby, Why? | 3:00 |
| 11 | Fridge Magnet Poem (Instrumental) | 6:36 |
| 12 | Take Back | 2:24 |
| 13 | Split Second | 4:33 |
| 14 | Off the Bench | 2:27 |
| 15 | I Go Into Your Mind/Quite Nice Day | 5:00 |
Producer's Notes by Yukio Yung
Yung & Moore Versus The Whole Goddam Stinkin' World was largely constructed on a computer recording system, even if much of the source material came from other recording environments. The principal software used was Digital Performer on an Apple Mac G4, with a TC Works Powercore DSP farm that provided software for the reverb, compression and mastering. The mode of operation was simple: I sent over a series of rough-mix CDs to Stevie in the US; he made his additions and sent them back to me as individual tracks on a series of CDs... a great number of them, actually. Other tracks were initiated from the opposite direction, with Stevie sending me the backing tracks to complete. Ultimately, I would drop the individual tracks into Performer and thereafter spend many a happy hour aligning, editing, snipping, pasting and stretching them. Some pieces were relatively simple eight-track recordings; others were much more complex - "Name Tag The Entertainer" contains about 40 stereo tracks and tricky automated mix settings.
My agenda for this production was to make an album that sounded like it might have been recorded in a professional studio, and would curb some of the natural "lo-fi" tendencies of many of either Stevie's or my own past albums. This is no criticism of the recording ethos from which we both emerged (or in Stevie's case, "pioneered"), I just wanted to hear what we might sound like with slightly higher production values, but without ending up with something bland that would make us both want to slash our wrists...

Yung's temporary "virtual" studio in Caithness, Scotland, where the album was mixed.


The Thoughts of Yung & Moore: Stevie and Yukio Discuss Each Track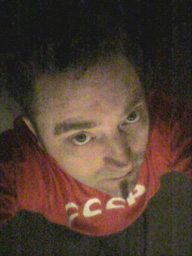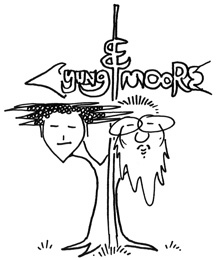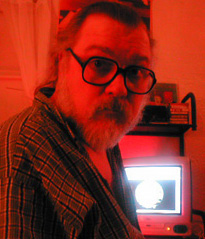 Mr Yung (left) and Mr Moore (right). With a toon by Stevie.
1. Schwann's Catalog

YY: Like several of the songs on this album, this was a backing track that I'd had laying from about 10 years but never got around to finishing. It had a working title of "Every Spot On Your Back". I recorded a basic MIDI arrangement in about 1995 on a Yamaha SY77 workstation synth. When I went into the studio with Andy Ward I had him replace my MIDI fakes with his usual drum magic. Stevie wrote a magical set of lyrics and laid down an inspired vocal performance. By the way, probably not many people outside of the US will know that the Schwann's Catalog was a big book found in music shops that had a listing for every record currently available for order. Or something...
RSM: Hi guy. First, tell me why this "book" was only an American concept? Surely your British Isles utilized a similar "library" resource to locate data information on phonograph records, aye?
YY: I guess there must have been something, but I don't think it was the Schwann's Catalog... or maybe it was... how would I know? Oh, you've just sent one over. Beautiful.
RSM: Don't remember what inspired me to write a story about a near-drowning at a lake, but it might have been a dream loosely based on childhood memory fears. Or not. As a boy, my family went out on the water quite often. Dad had a recreational boat or two over the years. Old Hickory Lake in Hendersonville TN. I seem to remember enjoying it a lot, but didn't really suffer from any excessive fear of falling overboard. Yardbirds reference notwithstanding, the accusatory lines about "righteous opinions and your condescending stance" strongly apply to my current loathing of said behaviour, found all over the place in my MMVI existence. I get outraged by so many folks these days, automatically self-proclaimed experts on every topic under the sun. Observe and pontificate, but plz don't gimme a correctness lecture or sermon. I don't need to learn about this vast world via your naively flawed tunnelvision. Lake Superior? So I'll slitherly swim away upstream to the other big book and look up this record we're listening to right now. Yukio is responsible for virtually this entire musical composition and arrangement, on which I later wrote the cascading vocal melody and dainty words. I additionally played some wet wah wah guitar throughout. The fade-out riffola is by me, blimey.
2. I Wish Marvin Gaye's Father Had Shot Me Instead
YY: Should it be "shot"? I thought it was "killed"? I don't know...

RSM: Take your pick, Nick. A brainless deconstruction. Check the Mums' LP sleevie, it positively states "Shot". Ditto the Mums CD. I think I always preferred it titled that way, even though your actual lyric is sung as "Killed". The announcer voice on the flexi says "woulda shot"... Poor guy, lord have mercy merci me (a stubborn kind of jello).

YY: This is a song from the first Chrysanthemums album, Is That A Fish On Your Shoulder Or Are You Just Pleased To See Me? I wrote the tune and Alan Jenkins - fellow Chrysanthemum - wrote the lyrics. The song, however, was actually inspired by R. Stevie Moore. He came up with the title of a non-existent song while recording his contributions to the flexi-disk, R Stevie Moore Presents... The Chrysanthemums, of which 20,000 copies were given away with Underground magazine. So Alan and I decided to write the song. The tune actually started life as a surfing instrumental - and somewhere I have a cassette of me writing it! Stevie recorded this version on the 20th anniversary of Marvin Gaye's death. The main part of the song is pretty much Stevie on his own - I just added the mellotron flutes, the brass section and the ranting preacher afterwards. (I stopped short of adding a gunshot on the last beat, which was probably for the best... or was it?) I did the "exotica" ending section as a sort of Les Baxter/Martin Denny tribute, using mellotron flutes.
RSM: Sure do love this one. I played the lead guitar solo while standing on my head in a sizzling frying pan. The femme background singer, Krystyna Olsiewicz, was employed by the producers.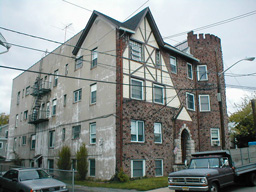 Casa Moore (New Jersey, USA)
3. On The Bench
YY: This neat little ballad was written by Victor Lovera, who I kind of think of as the third member of the Yung & Moore Show. He and Stevie were very close friends, and recorded huge amounts together when they were younger. Victor died in 1998, and the only "personal" experience I have of him is a home video that Stevie sent me of one of Victor's visits. He certainly wrote a load of great songs, though, and we have part-recorded several other Lovera songs for possible/hopeful future use - including one on which I duetted with him... which was kind of an odd feeling. Wish I'd got to meet him.
RSM: Where's Vic? I and about ten others miss him dearly. He can't really have perished, can he? Something tells me he's STILL just in the next room, drawing and strumming simultaneously. Or the other room adjacent to that. I can smell him.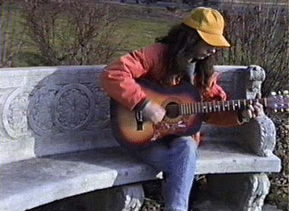 That's Vic... on a bench...
4. Divorce Court
YY: This was a fabulous surprise. I sent over the basic 16-bar loop - drum machine, mellotron flute and synth - and Stevie turned it into an epic that in its own way evokes the pain of a relationship breakdown every bit as well as something like "You've Lost That Lovin' Feeelin'"... I took the liberty of pruning some of the superfluous versus, but it still comes in at about six minutes.
RSM: This deep lullaby grips me hard. Makes me feel really uncomfortable. I suppose that makes it a successful creation. And why is that? Devastating to my case. Objection overruled. Can I put you on hold? Avon calling. Mr. Avon was the evil "Lawyer" who wasn't supposed to be included in the original song title. Playing table tennis in the divorce court. Ship of Eddie's father. I spat Phonography lead guitar and cricket pitch.
5. Norway
YY: This is an update of the version that came out on our Objectivity CD EP (Jar Music, Germany, 1996). I added the string quartet and re-did the backing vocals. It's one of my all-time favourite RSM songs, one that originally came out on his second album, Delicate Tension. What can I say? I'm a fan.
RSM: No way, no way, no way. This is the kind of number which Tony Bennett shoulda tackled on wax before the world (as we know it) ended. Oh well, most of my clients remain nevertheless optimistic. But not all.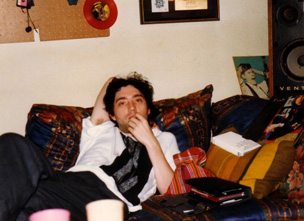 A youthful Yukio visits Stevie in Montclair, NJ, in 1987.
6. Name Tag The Entertainer Take 12
YY:This was an attempt to fuse drum 'n' bass with jazz, complete with a cod-Herbie-Hancock electric piano solo. (And not - I repeat NOT - just me showing off the depth of my understanding of sophisticated harmonic relationships.) I prepared the instrumental track and simply thought of it as an amusing little experiment that I didn't expect ever to be used for anything. The chord sequence is tortuously complex, but somehow Stevie managed to put a coherent tune over the top of it. He now does a version of this live with an acoustic guitar. Respect!
RSM: Nah, don't believe him. I helped write this piece with Gino Vannelli in 1976 without Terry's parents' knowledge, but he did take it from me much later on, with my full permission. Ya know? I need to go listen to it again. Alert! Scratch that previous denial. Yukio was absolutely correct. My originally intended white rap (or, "wrap" as we call it in Jersey) on the funkeejoint parts was removed, all for the betterment of the community. Collectors can (possibly) find the revealing puzzling evidence on one of RSM's home tapes. Conscientious Objector. The faux lyrics mean nothing to everyone and everything to nobody. You can fall in love and sign in please, but only if you can be easily identified with a card pinned to your chest cloth which displays your moniker. Homeland security protects you from pain and mental paranoia. Of which most singers, actors and comedians possess in abundance. I've never heard the Jung Analyst play such impossibly difficult music like this before. Steroids?
YY: I'd forgotten about the rap... it troubled me... really troubled me...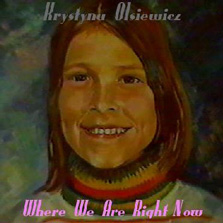 This is Krys Olsiewicz. She sings on this track, and several others. This is the artwork for one of her own releases.

7. Subjectivity
YY: I thought it might be nice to have a track to go with "Objectivity" from the EP.
RSM: And you were right. So very right. Thanks for letting me frog sing it. Your honour? I subJECT!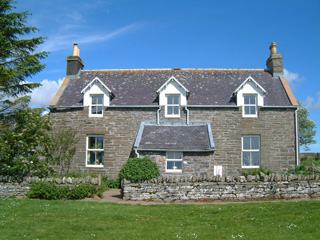 Casa Yung (Scotland branch)
8. I'm Taking Your Stuff
YY: This is a song by a lady we know named Shari Elf, who is better known as a visual artist. In fact, she's sold pieces of her "good and sturdy art" to such celebrities as Harry Dean Stanton, Jack Nicholson, Graham Nash and Courtney Love. She sings this song a capella on her debut album, I'm Forcing Goodness Upon You. And also makes an appearance on our version.
RSM: Take back, he said to her. Baby's got back. Take back your stuff. "But why, don't you want it no more?" No, I don't... your stuff reminds me of you. "Forget it." I'm trying. So, another loving couple dissolves in the alka seltzer. Can't boy and girl ever emerge victorious? The heart is a cruel pump. It's got too much burden moving the bloodstream to have to also deal with passionate emotion. Why didn't God create a separate heart #1 and heart #2? Multi-tasking is surely a no-go for the body's ultimate panic button organ grinder. I'm taking my own heart scare stuff and putting it on eBay. And I remembered to add positive feedback to your winning bid on that outstanding guitar solo I fingered so divinely. Angina. Buy it now.
YY: Couldn't have put it better myself...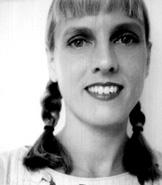 And here is Shari Elf. Visit her website... buy her art... www.sharielf.com.
9. Social Studies Buddies
YY: This is taken from a backing track I recorded for one of my guitar tutors (Play Country Guitar, Dorling Kindersley, 1996). In fact it was a finished song called "Just Another Hopeless Monday Morning", but I'd intended for Stevie to sing the middle eight. Instead he wrote a whole new song! The mandolin tune near the beginning is a tribute to Stevie's Dad, the legendary Nashville bassist Bob Moore - it's the main melody from "Mexico", which was his big instrumental hit in the early 60s. The Telecaster solo actually appears transcribed in the book as a playing exercise - I'm quite pleased with that one, actually!
RSM: Me mockin' and apin' the Generic Waylon Jennings sort. Extremely proud of this demo. The lyric premise is a hallucination which paints a picture that speaks for itself. One can sense the violence developing line by line. There's also the subtle inference surrounding the concept of modern automobile obsession. I totally gave up driving back in 1985 and have loathed your entire Oil Generation ever since. Once upon a time, I ran country. Thank Hank. Request this emphasis track on the Radio Thrift Shop at your local AC&W stream, and help bring me back to the Ryman, man.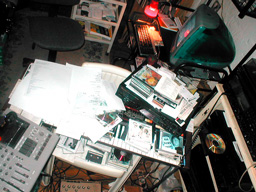 Studio clutter at Stevie's place
10. Baby, Why?
YY: I believe this was from a recording that Stevie made in a piano shop. I'd never really tried singing falsetto before - I was surprisingly comfortable in that register, actually.
RSM: Yep like he said. This is a delightful piece of pop pap. We artists take ourselves so seriously, over and over. Or do we? Aristotle once said that mankind was daft. I heard him speak it. But without proof of evidence, I have no believable case. You'll just hafta trust me. If that's humanly possible in this Ahab the Arab terrorist age.
11. Fridge Magnet Poem (Instrumental)
YY: I sent Stevie a load of drum 'n' bass loops; he sent a load back; I threw the lot into Digital Performer and eventually came up with a structure. The title comes from a fridge magnet poetry kit that my partner bought for her dad. He was a devout Christian, and used to arrange carefully composed worshipful lines of poetry - whenever I visited I used to subtly re-arrange them. I used one of my favourite subversions on this track, and then agreed with Stevie's comment that the tune wasn't strong enough - so we left it as an instrumental.
RSM: Snorting the Worshipful lines. Lloyd have mercy on this, the original Yung and Moore Show theme (Granada Television, series three, rerun version between adverts and at credits roll). One can hear the actual subway brakes exhaust screech as captured one late night at Ground Zero NYC by me, Arra Zdeeviqawah Moorhammed. One can also hear Breet's wind chimes dancing in the soft Baghdad breeze. Sand in his sandals. Steve hates toes.
YY: By the way, I wrote a set of lyrics for an alternative track called The Yung & Moore Show Theme. The original idea was that the album would be called The Yung & Moore Show - The Complete First Series... as if it were a DVD boxed set of an old TV comedy series. I even wrote some outline synopses for the shows, such as...
..Episode 1 My Beautiful Cigars
..Someone's been tampering with Stevie's humidor - his precious Cohibas have been
..replaced by some pieces of Stilton and a pair of soiled underpants; does Yukio know
..more about this than he's letting on?
..Episode 2 The Love Rats
..The boys get themselves all hot and bothered when a beautiful independent financial
...consultant (Jennifer Aniston) moves into the neighbourhood. When she goes on a date
..with Stevie, Yukio enlists the help of a mysterious Chinaman (Henry Winkler), who sells
..him a packet of magic biscuits that he claims will win her over.
..Episode 3 The Sea Bass That Fell from Grace With The Sea
..With Yukio holed up in a cheap motel with a prostitute (Felicity Kendall), Stevie takes time
..out to reorganise his collection of used lightbulbs. But his plans are thrown into disarray when
..he receives a surprise visit from his Ukranian cousin, Miroslav (Jeff Goldblum), who brings
..unexpected news - and fish - from the homeland.
..Episode 4 My (Failed) Dinner With Andrei (and Luis)
..Faced with imminent worldwide destruction, a confused Stevie believes that he can save
..the planet by setting fire to his Corby trouserpress; Yukio kicks a nun repeatedly.
...that sort of thing.
And so I thought the series required a theme tune. Previously, our mutual friend Dave Gregory - he of pop heroes XTC - sent Stevie a little bluegrass tune as a birthday present. And I wrote these lyrics...
The Yung & Moore Show, The Yung & Moore Show
Yukio and Steve are getting ready to go
They've tightened their corsets, rehearsed all their gags
My! Oh my! What a couple of wags!
The Yung & Moore Show, The Yung & Moore Show
"I'm R. Stevie" and "I'm Yukio"
So hook up your morphine and jack up the sound
'Cause the boys are back in town!
But when I started to record it, using three-part harmonies, I realised it was a crap idea...
12. Take Back
YY: As anyone who knows Stevie's work will agree, when he's on form he's an absolutely brilliant songwriter. This is one his best songs in years. And one of his best vocal performances. I was trying for a kind of casual/gentle Burt Bacharach backing vocal effect, but it didn't really quite come off. Ah well.
RSM: Ah, yes. Extremely proud of this relatively recent composition. Write me for guitar tabs. Give me a sign. I need a signal. Nostalgia neuralgia algae. Der future ist verst zan ze past. Mama, remember when R. Stevie was once a Supreme Ruler. Now he's reduced to an Idea Slave of the lowest value. What else is he not supposed to do? Throw him in your grandson's SUV and zip him in reverse to 1966!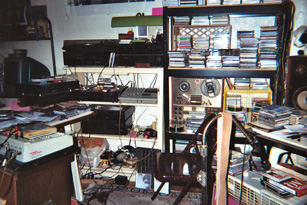 Stevie's studio
13. Split Second
YY: This was one of Stevie's backing tracks that I worked on. I think it's the first time I've ever really written a "love" song (such as it is). The idea was that the narrator's internal dialogue actually takes place over the space of a couple of seconds, between him seeing the girl and her vanishing forever into the distance. I was more than a little unsure about the lyrics and vocal performance, but others seem to like it. One unexpected fan was Irwin Chusid, who has played it loads on his celebrated WFMU show.
RSM: The opening fade-in sound FX is my cheap camcorder-mic capture of the agonizing cries from a big truck parked right outside my window one quiet suburban night. This fuckin tank's alarm went off, and its driver was nary to be found anywhere. Excruciating annoyance for over an hour. My chord progression and melodies began as a rough composing attempt for my friend Mitch Friedman's lyric "Who Is the Periscope Infant?", the collaboration of which never got finished. I surmise that Yukio's nuclear brass section is to die for. So I shall. Surmise.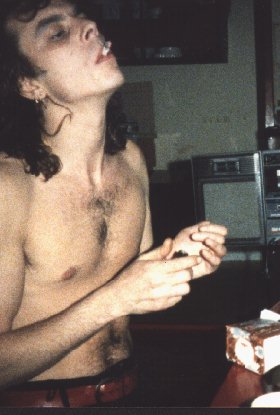 This is Andy Ward - he plays drums on this track and quite a few of the other ones. He's a bona fide rock star: when he was very young he played with noted prog-rockers Camel; in the 80s he played with Marillion for a while; and in the 90s he performed with The Bevis Frond... and Yukio Yung, of course...
14. Off The Bench
YY: As I was orchestrating "On The Bench" I tried to come up with an English horn counter-melody. It didn't work as that, but I liked the melody in its own right, so suggested it as a reprise.
RSM: Great, TB!! Pinch hit walk off home run. Scratch slap run on work walk. Dash away all.
And there's Vic again... drinking a beer
15. I Go Into Your Mind/Quite Nice Dream
YY: This one's my baby, really. "IGIYM" is another of Stevie's early songs that I love, and I thought it could take quite a gentle psychedelic arrangement. After I'd done the basic recording, I was surprised to find that the chords to main verse were an almost perfect match for a section of an orchestral composition that I'd been working on, called "Quite Nice Dream". So I grafted the two together.
RSM: Man, I don't remember a thing about 1978 NOR 2004. It really sounds purty good, though, ya thinkit? Upon further perusal... This bombastic movement is frighteningly mindbendingehn. Worshipful. Father Yukio Yung has allowed me to die and go to hellven.

Downloads
[To listen, click on the play button; to download, right-click (PC) or ctrl-click (Mac).
YY: Hello again. Here are a few things that we did for Yung & Moore Versus The Whole Goddam Stinkin' World that didn't make it to the final album.
YY: This one is "I Like Yellow Things", which is quite a well-known "song poem". In case you don't know about these things, song poems appeared in the US in the 1950s. Members of the public would write a set of lyrics, send them away with a payment, and they would be set to music. A few weeks later, the lyricist would receive a recording - usually a seven-inch single - in the post, and all his family and friends would be amazed. In most cases, of course, the results were terrible, but some of the key performers working in this area - Rodd Keith, for example - have gradually become unlikely cult heroes. Over the past decade, many of the greatest or strangest efforts have been issued on CD collections - indeed, I first heard "I Like Yellow Things" a couple of years ago when David Tibet lent me The American Song Poem Anthology CD. As with many of the other song poems I've heard, the appeal is in the naivety of the lyrics, which sound like they might've been written by a seven-year-old, or someone with no conception of how a set of words will scan rhythmically. In this case, the words were then heroically grafted to a fabulous tune by someone who probably had an hour in the studio to get the whole thing finished. It sort of sounds like a weird Coca Cola advert from about 1968. Sometimes all of those "wrong" factors come together to produce something magical. Of course, given that these are lyrics written by regular members of the public, they often take on matters not normally covered by professional songwriters - weird political views, hobby-horse rants and other strongly-felt personal issues. And this "realism" is also a great part of the appeal. I thought this particular set of lyrics were very sweet and might suit treatment as a gentle ballad. But it didn't really come off.
If you want to discover more about song poems, go to the American Song Poem Music Archives. There are also hundreds of free downloadable mp3s there.
YY: This is an alternative version of "Norway" that I threw out. I tried samples from a 1970s Arp synth bass - the sort that was used on things like "Love Don't Live Here Anymore". But I don't think it sounds very nice. And I don't think I ever played it to Stevie. Wonder what he'll make of it...


The Official Orgone Records Press Release
A second collaboration between the twin multi-instrumental talents of US lo-fi legend R. Stevie Moore and the UK's Yukio Yung. They first collaborated in 1997, the six-track CD EP Objectivity appearing on Germany's JAR label.
As son of Bob Moore, Nashville's elder statesman of the bass (and Country Music Hall of Fame inductee), R. Stevie's heritage is a fascinating story in its own right. His first flirtation with fame came at the age of nine when he duetted with Jim Reeves on the country-schmalz classic "But You Love Me, Daddy". After a brief career that looked set to follow his father, playing sessions for the likes of Perry Como and The Manhattans, Stevie escaped from Nashville and moved to New Jersey, armed only with a guitar, a microphone and a couple of tape recorders. In 1976, under guidance from his Uncle Harry - that's Harry Palmer of seminal US prog/psych band, The Ford Theater) - he home-recorded and self-released his first album, the legendary Phonography. [Remember, this was at a time when there really was no such thing as a home recording or even an independent music scene.] Music business renegades such as Frank Zappa, Todd Rundgren and The Residents are all known to have been admirers of Stevie's debut. Since then he's had at least 20 albums issued by labels across the world, and released over 400 albums on his own Cassette/CD Club label.

Not quite as prolific, Yukio Yung has around 40 commercial releases to his name under a variety of guises and in as many different styles. He is probably best known as founder member of psychedelic art popsters, The Chrysanthemums - a popular attraction on the continent in the first half of the 1990s. (Additionally, as YOO.KO, he enjoyed a minor techno hit in Germany in 1992.) The 'Mums recorded six albums and numerous singles. He also produced five solo albums, released on various German labels throughout the 1990s, and collaborated with the likes of Todd Dillingham and German "industrial" composer Asmus Tietchens. In recent years, much of his time has been taken up with writing books - under the name Terry Burrows, he has written some of the world's biggest-selling music tuition titles (over three million of them, in fact). Earlier mixes of several of tracks from The Yung & Moore Show's debut - including the ballad "Split Second" - have been aired by Irwin Chusid (author of Songs in the Key of Z) on his noted WFMU show.

© 2006
[To close window, click on Orgone logo.]